August 2022
ACI BUET Student Chapter Receives "Outstanding University Award 2022"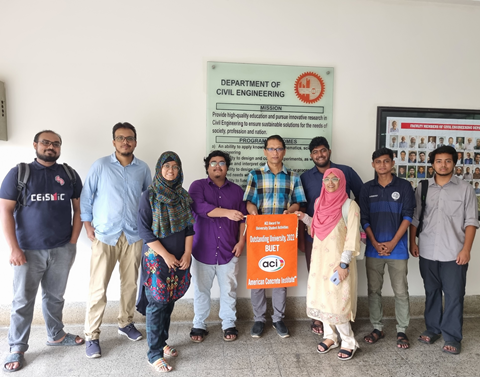 ACI (American Concrete Institute) Student Chapter at Bangladesh University of Engineering & Technology (BUET) has been honored with the prestigious "Outstanding University Award 2022". This remarkable achievement marks a significant milestone in our journey of academic and extracurricular excellence.
The official award banner was proudly handed over by Dr. Abu Siddique, the distinguished Head of the Department of Civil Engineering at BUET. The momentous ceremony was graced by the presence of the respected Professor Dr. Sarwar Jahan Md. Yasin, our esteemed faculty advisor, Dr. Rupak Mutsuddy along with the dedicated chapter executives.
The ACI Award for University Student Activities recognizes universities that have demonstrated exceptional commitment and participation in ACI-related activities and programs. We are humbled to be among the selected universities from around the world to be recognized with the "2022 Outstanding University Award." This accolade reaffirms BUET's dedication to nurturing a vibrant academic community.
Our university's recognition as an "Outstanding University" is a testament to the relentless dedication and hard work exhibited by both our students and faculty members. This award serves as an inspiration for all members of the ACI BUET Student Chapter to persevere in their engagement with ACI activities and initiatives, as well as to uphold the highest standards of excellence in all endeavors.
Here is the list of the 2022 ACI Excellent or Outstanding Universities-
https://www.concrete.org/Portals/0/Files/PDF/2022_UnivAwardRecipients.pdf
which can be found in the Professional ACI website, link: https://www.concrete.org/news/newsdetail.aspx?f=51738746